Latest News
---
2014 Annual Meeting
Flywheel is an all-volunteer run community arts space. We depend on you, the community, to help the space survive and grow through show attendance, volunteer work, and donations. We've had an incredible 16 years, but we need your support to last another 16.
Please attend Flywheel's annual meeting on Wednesday December 10, 2014 at 6:30 as we socialize and celebrate our accomplishments over the past year. This date also coincides with Valley Gives, the annual fundraising event held throughout the Pioneer Valley.
Dinner and entertainment will be provided by Flywheel's Hub. All are welcome. If you plan on attending, please RSVP here.
---
Flywheel Wish List
As you know, Flywheel is supported by the generosity of our donors. Many of the wonderful things that make up Flywheel's physical space have been donated by good people like you.
To that end, we are always looking for certain items to be donated or funds to make infastructure improvements. Here is a current list of things that we need or want...
Cash Register

Gallery Lighting

LED Stage Lighting

Disco Ball

Beverage Fridge

Small Side Table with a Drawer

Bigger movie screen
We also are happy to accept monetary gifts.
Renting
Flywheel for birthday parties, meetings, dinners, weddings and the like also helps us stay afloat.
---
Flywheel's 15th Anniversary and Pioneer Valley Zine Fest 2014!
Don't miss out on a great weekend celebrating 15 years of Flywheel's existence!

Friday, May 2, AMPERE will be playing with Sweet John Bloom, Mean Man's Dream and Worn Leather. Don't miss it!


Then on Saturday, May 2, Pioneer Valley Zine Fest 2014 is happening! Organized by the Flywheel Arts Collective Zine Library Committee, this all-day event will feature over 20 zinesters and organizations from in, around, and beyond the Pioneer Valley. Zine-making and collaboration workshops will also be held. Attendance is free!
In addition, this year's Pioneer Valley Zine Fest will be a part For more up-to-date information, visit the
Pioneer Valley Zine Fest Facebook Page
, or attend the
event via Facebook here
.
Workshop Presenters Schedule (2pm-4pm)
Kate Sumner: Zines in the Archives (2:00pm-2:30pm)
For the past year, I've been working on a large project on the Riot Grrrl movement of the early 1990s. Although I have approached my work from a number of angles, one of those has been academically through the Sophia Smith Collection's Girl Zine archive. I want to talk about the joys and complications of zines in the archive, as well as look specifically at riot grrrl and question the media co-optation narrative that often gets told about it.
Angie Toxica: Tea and Freewrite! (2:30-3:15)
this isn't a workshop but an opportunity to indulge your personal, creative side in the company of fellow zinesters -- or to experiment with perzining for the first time in a supportive space. we'll talk about/share the zines that have most influenced us, then freewrite to prompts over tea in the flywheel cafe. those who are moved to read their work out loud will read out loud, and materials will be provided to immortalize our writing onto zine pages.
Trevor Powers and Sylvia Kim: Photobooks, Photozines, and Self-Publishing (3:15pm-3:45pm)
The presentation will be in the form of a pop-up exhibit and discussion that will focus on photobooks, zines, artist's books, and other photo publishing formats.
Presented will be 20-30 titles by artists, photographers, and presses from around the globe - exploring various formats, styles, and production processes. In addition, we will also look at a number of new books by contemporary photographers that push the boundaries of the format and question what a photobook can be.We will show and talk about the different titles, discussing how they were made, their form versus content, and so on. Other topics covered will range from: print-on-demand and self-publishing services, collections and libraries specific to these types of publications, non-traditional publishing formats, and whatever else the comes up along the way. This presentation is meant to be an open discussion and exploration of photography in the book and zine format.
---
The Annual Flywheel Record Fair is Here!
Join us April 27 from 10AM-3PM for the Annual Flywheel Record Fair!. There will be more than 25 local vendors selling records, from LPs to 45s, CDs and tapes, plus music memorabilia. If you missed out on Record Store Day, this is a great opportunity to support a local records vendor.
This event is also a fundraiser for the Flywheel Arts Collective. Celebrate and support Flywheel as it enters its 15th year as a non-profit organization in the Valley!
---
4/18: Benefit Concert for Skill Set: A New Retreat for 20-24 year olds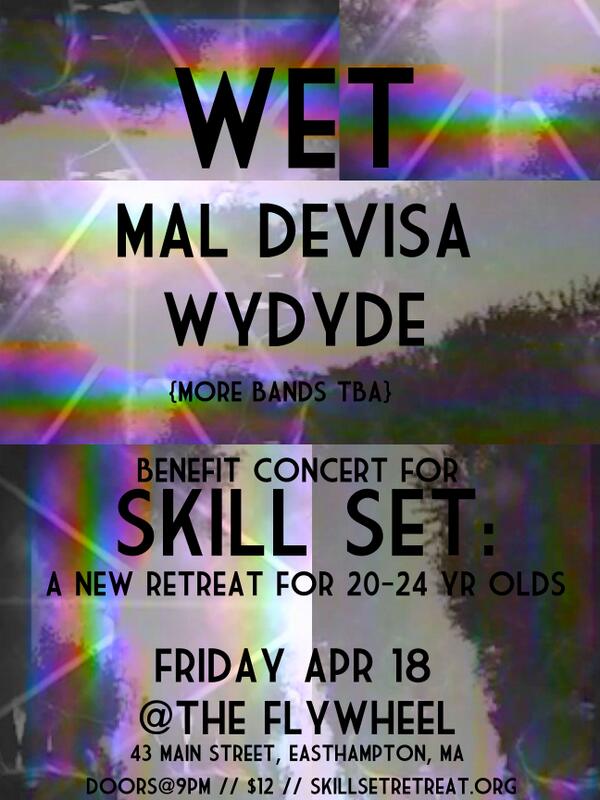 A benefit concert to support SKILL SET: a new retreat for 20-24 year olds is happening FRIDAY, APRIL 18th // 9:30pm // $12
Bands performing are:
WET from Brooklyn, NY
MAL DEVISA from Western Mass
WYDYDE from Western Mass
Skill Set is a new retreat for 20-24 year olds at the Rowe Center taking place between June 8th and 14th, 2014. Skill Set is a program for people in transition between adolescence and adulthood. We'll be working on personal growth and community building, emphasizing the vital skills of listening, leadership, and critical self-reflection. As we work on big questions about career, family, identity, and social change, we'll also be sharing experiences as cooks, carpenters, and wilderness explorers. Participants will gain new skills, insights about themselves, and new visions for their lives, communities, and societies.
---
About Flywheel
Flywheel, a collectively run, not-for-profit space, aims to build community and give artists of all types the opportunity to craft, practice, and perform their work in an environment where creativity is valued over profit. Volunteer-run and governed by consensus, Flywheel believes that art and information should be equally accessible and affordable to all people. The all-ages, alcohol- and drug-free space features a cafe, zine library, performance space, and an art gallery. LEARN MORE ABOUT FLYWHEEL.
Events Calendar
Keep an eye on this space for info on upcoming meeting dates, events, and performances.
---
February 12, 2015
6PM TBD

Press Release Workshop for grantees, Flywheel Members, ECA+ Members and ECA+ program recipients.
---
February 13, 2015
8pm $7

BARRENS
Doom trio from the providence area. (Members of Tiny Hawks,Arcing)
JAEL'S PEG
Dark acoustic, voice and samples. On tour with Barrens.
---
February 28, 2015
Drawing influences from ritual practices and personal mythologies, old Appalachian music, queerness, strangeness, the woods, growth, and uncertainty. Drawing things out and holding them up to a dim light. Finding complications in old kitchens; mornings soft and echoing in the bowers of an attic. Mallory believes music and existence are political and full of struggle. Mallory tries their best to be anti-sexist, anti-racist, anti-ableist, anti-classist, anti-authoritarian, and anti-state. They trust a new world is inevitable. Mallory is now perhaps less of a tool to hammer that new world into being, as they were when they first met, and now more of a joyous funeral for the old one, a celebration of its passing, and a hearkening to the trails that have persisted throughout both.
---
12pm-4pm

Zine Library Open Hours
Come read zines from the Flywheel zine library! ROOT BEER KEG and MOCKTAILS will be available!
---
March 21, 2015
12pm-4pm

Zine Library Open Hours
Come visit Flywheel and read from our zine collection! Featuring a dry bar of fancy mocktails!
---
April 4, 2015
12pm-4pm

Zine Library Open Hours
Come read zine from our library and make a few of your own! Featuring snacks and mocktails!
---
April 11, 2015
10AM-4PM

Pioneer Valley Zine Fest 2015
---
April 18, 2015
1:00am

Saturday Morning Music Party
---