Latest News
---
Flywheel Wish List
As you know, Flywheel is supported by the generosity of our donors. Many of the wonderful things that make up Flywheel's physical space have been donated by good people like you.
To that end, we are always looking for certain items to be donated or funds to make infastructure improvements. Here is a current list of things that we need or want...
Cash Register

Gallery Lighting

LED Stage Lighting

Disco Ball

Beverage Fridge

Small Side Table with a Drawer

Bigger movie screen
We also are happy to accept monetary gifts.
Renting
Flywheel for birthday parties, meetings, dinners, weddings and the like also helps us stay afloat.
---
Flywheel's 15th Anniversary and Pioneer Valley Zine Fest 2014!
Don't miss out on a great weekend celebrating 15 years of Flywheel's existence!

Friday, May 2, AMPERE will be playing with Sweet John Bloom, Mean Man's Dream and Worn Leather. Don't miss it!


Then on Saturday, May 2, Pioneer Valley Zine Fest 2014 is happening! Organized by the Flywheel Arts Collective Zine Library Committee, this all-day event will feature over 20 zinesters and organizations from in, around, and beyond the Pioneer Valley. Zine-making and collaboration workshops will also be held. Attendance is free!
In addition, this year's Pioneer Valley Zine Fest will be a part For more up-to-date information, visit the
Pioneer Valley Zine Fest Facebook Page
, or attend the
event via Facebook here
.
Workshop Presenters Schedule (2pm-4pm)
Kate Sumner: Zines in the Archives (2:00pm-2:30pm)
For the past year, I've been working on a large project on the Riot Grrrl movement of the early 1990s. Although I have approached my work from a number of angles, one of those has been academically through the Sophia Smith Collection's Girl Zine archive. I want to talk about the joys and complications of zines in the archive, as well as look specifically at riot grrrl and question the media co-optation narrative that often gets told about it.
Angie Toxica: Tea and Freewrite! (2:30-3:15)
this isn't a workshop but an opportunity to indulge your personal, creative side in the company of fellow zinesters -- or to experiment with perzining for the first time in a supportive space. we'll talk about/share the zines that have most influenced us, then freewrite to prompts over tea in the flywheel cafe. those who are moved to read their work out loud will read out loud, and materials will be provided to immortalize our writing onto zine pages.
Trevor Powers and Sylvia Kim: Photobooks, Photozines, and Self-Publishing (3:15pm-3:45pm)
The presentation will be in the form of a pop-up exhibit and discussion that will focus on photobooks, zines, artist's books, and other photo publishing formats.
Presented will be 20-30 titles by artists, photographers, and presses from around the globe - exploring various formats, styles, and production processes. In addition, we will also look at a number of new books by contemporary photographers that push the boundaries of the format and question what a photobook can be.We will show and talk about the different titles, discussing how they were made, their form versus content, and so on. Other topics covered will range from: print-on-demand and self-publishing services, collections and libraries specific to these types of publications, non-traditional publishing formats, and whatever else the comes up along the way. This presentation is meant to be an open discussion and exploration of photography in the book and zine format.
---
The Annual Flywheel Record Fair is Here!
Join us April 27 from 10AM-3PM for the Annual Flywheel Record Fair!. There will be more than 25 local vendors selling records, from LPs to 45s, CDs and tapes, plus music memorabilia. If you missed out on Record Store Day, this is a great opportunity to support a local records vendor.
This event is also a fundraiser for the Flywheel Arts Collective. Celebrate and support Flywheel as it enters its 15th year as a non-profit organization in the Valley!
---
4/18: Benefit Concert for Skill Set: A New Retreat for 20-24 year olds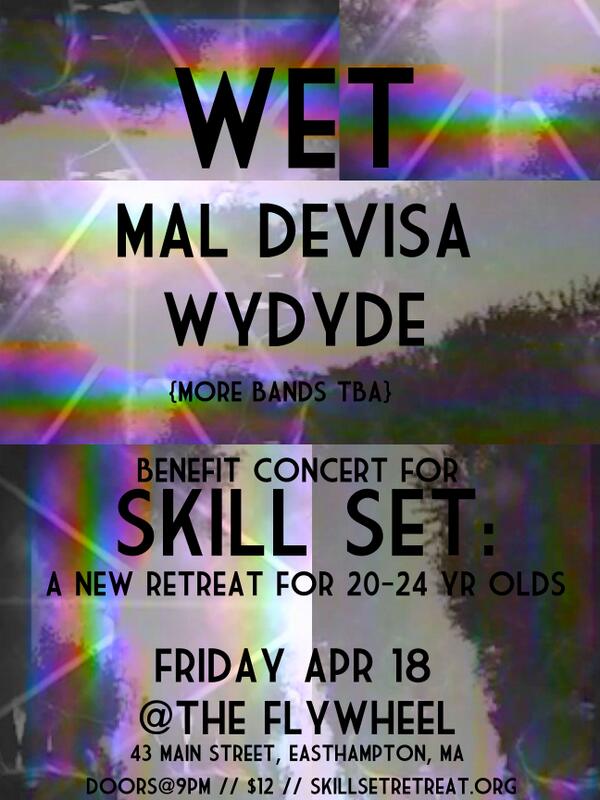 A benefit concert to support SKILL SET: a new retreat for 20-24 year olds is happening FRIDAY, APRIL 18th // 9:30pm // $12
Bands performing are:
WET from Brooklyn, NY
MAL DEVISA from Western Mass
WYDYDE from Western Mass
Skill Set is a new retreat for 20-24 year olds at the Rowe Center taking place between June 8th and 14th, 2014. Skill Set is a program for people in transition between adolescence and adulthood. We'll be working on personal growth and community building, emphasizing the vital skills of listening, leadership, and critical self-reflection. As we work on big questions about career, family, identity, and social change, we'll also be sharing experiences as cooks, carpenters, and wilderness explorers. Participants will gain new skills, insights about themselves, and new visions for their lives, communities, and societies.
---
Thurs. April 17--HOT FROTH: A PERFORMANCE ART PRODUCTION
Come out for a night of great art performances! A series of performance artists will share their work.
Title: brown gyrls apogee
* A short erotic performance piece choreographed and produced by
Nina Yagual
&
Tosca Ophelia Drum
. This is about a person who falls asleep for three years and the dance monsters come out to play. Are you curious?
Title: In Fallow Hearts
*A dance poetry about one gyrls yearning for a prayer that comes from hir heart. With fallow fields ze is carried by songs through long nights. Surrounded by the voices of hir family ze destroys the king of hir torah, and writes hir own br'cha-blessing. A performance by Ally Bells
Title: Eccentric Performance with Jolti the Clown
*Presented by
Dagen Julty
Features:
*
Alison Beth Levy
will be gracing us with astrology readings!!
*handmade art and clothing for sale
* Zines
*snacks
* live music- to be updated
A benefit show: 35% of the proceeds will go to the Flywheel arts collective and remainder will fund a trip to South America to study indigenous rights and social justice. With the intentions to provide nutritious food, computers, up to date books, clothing, etc. to under-resourced prisons in Ecuador.
Sliding scale of $5-$20 is appreciated but NOT REQUIRED FOR ENTRY
---
About Flywheel
Flywheel, a collectively run, not-for-profit space, aims to build community and give artists of all types the opportunity to craft, practice, and perform their work in an environment where creativity is valued over profit. Volunteer-run and governed by consensus, Flywheel believes that art and information should be equally accessible and affordable to all people. The all-ages, alcohol- and drug-free space features a cafe, zine library, performance space, and an art gallery. LEARN MORE ABOUT FLYWHEEL.
Events Calendar
Keep an eye on this space for info on upcoming meeting dates, events, and performances.
---
October 23, 2014
6:30pm

Flywheel Zine Committee Work Party Potluck
Come help us catalog our zine collection and enjoy some food.
---
8:00pm $10

Rob Kennedy of The Workdogs teams up with Marco Butcher of Sao Paolo's Thee Butcher's Orchestra to form a drums & guitar punk-trash-garage powerhouse. Don't miss it!
Windsor, VT rock and roll
Ebbs Flow
Local hard edged psych jams
---
October 28, 2014
8pm 7$

Veiled
Arnau Sala & Robert Fransisco create dark pounding rhythms best suited for the cellar beneath the dance party
Noise Nomads/Gastric Lavage
those two guys are back at it
Suram
S.Duram will perform a solo synth set.
---
November 1, 2014
7:30 pm 10$

The Real Kids
Boston punk rock legends The Real Kids have been rockin' since 1972. Their new lp "Shake...Outta Control" is a instant classic!
Easthampton Savings Band
Local rockers breaking boundaries of sound
Millers
up the ponx!
---
November 2, 2014
7pm $12

NYC SKA Legends
Beige
+ more TBA
---
November 6, 2014
7:30 10$

Orcutt & Corsano Duo
Matt Krefting
Radiant Husk
---
November 7, 2014
8:00 doors 8:30 show $10

First "official" tour by Om drummer Emil Amos' project of avant-sound collage future-music.
of Magik Markers; rockin the solo shit on Drag City.
Black Sky
Pre-sale tickets are available for $10 plus a .75¢ service fee below. Tickets will not be mailed. Your name will appear at the door, the night of the show.
---
November 12, 2014
7:00pm

Flywheel General Body Meeting
Come find out what's happening behind the scenes!
---
December 3, 2014
7pm $7

LEGGY
KINDLING
---
December 4, 2014
6:00 PM

---
December 6, 2014
PRINTING PRESS BENEFIT SHOW
---